How to Set Up a Baidu PPC Account
Setting up a Baidu PPC account is more complicated than on Google, Bing, or other PPC platforms. The main complexities are the necessary paperwork and the transferring of a pre-payment, especially for foreign companies who do not have a Chinese bank account. This blog post will walk you through the main steps of setting up a PPC account on Baidu.
Before you proceed, check first: do you already have a Chinese website?
Step 1: Register online
If you are completely new to Baidu, register online at the Baidu PPC registration platform and send a request to set-up your account. If you already have an account manager from Baidu assigned to you, you can skip this step and contact her/him with your request.  For further information, you may also refer to the Baidu Starter Guide, which is a very helpful resource.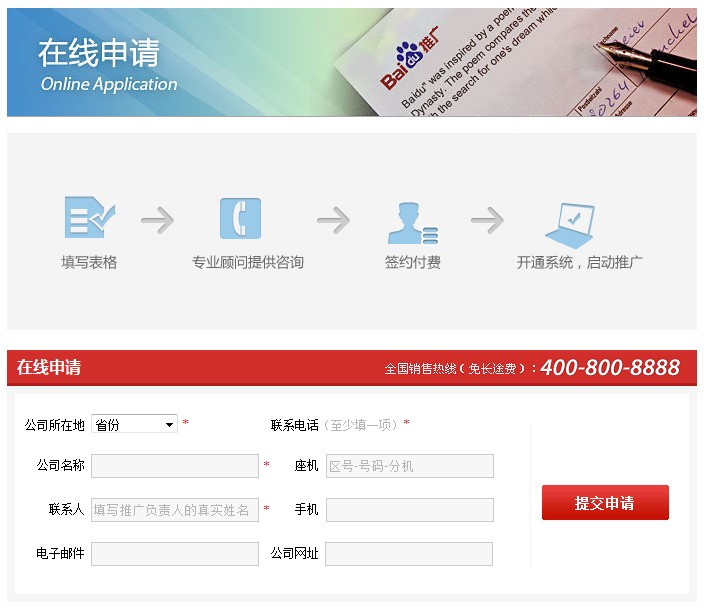 Step 2: Provide business documentation
The next step – a very crucial one in the whole process –  is to provide Baidu with your business registration documents and copies of all other licenses which permit you to sell certain products and services in China. Baidu will not activate an account before these documents have been received and verified.
Foreign companies, which are not registered in China, can provide a copy of their local registration documents. These documents have to be translated into Chinese by Baidu authorized translation companies.
Some other documents might be requested by Baidu if they are deemed necessary, e.g. your internet content provider's license.
Step 3: Sign contracts
After Baidu has received all the necessary documentation, you will have to sign the privacy terms and advertising contracts, which are also available in English.
Step 4: Request an invoice
Baidu only accepts pre-payment, which means you have to have money on your account before your campaigns can be active. The next step is requesting an invoice to initiate the payment. As of today, the amount in order to start up an account is min. CNY 20,000 (or USD 3,200).
For foreign companies, the process of transferring the pre-payment necessary to set up a Baidu PPC account could be complex and lengthy. Baidu does not accept any international credit cards such as MasterCard, Visa or American Express. If your company does not have a Chinese bank account, you will have to use a local Chinese agency or, in some cases Baidu will allow online bank transfers denominated in a foreign currency. In this case, the whole transaction process may take up to 3 weeks until the foreign currency has been exchanged to Chinese Yuan and credited onto your account, so have some patience and reserve enough time before your campaigns' start.
Baidu will send you a pre-set account login and password. First log in to the account interface to immediately change your password.
Congratulations! Now you can start with your PPC advertising in Baidu. Have fun!